Marketing to Government
Looking for Australian government marketing lists? A-ZGovBIZ has compiled a comprehensive contact list of key decision makers. Call us today 02 9516 4703.
Local Government | State Government | Federal Government | Lists of Lists
Marketing to government is often a lesson in the art of getting into the minds of public sector managers. Although this may present a challenge, A-ZGovBIZ have completed most of the math for you. Our team of experts surveyed government buyers and asked a crucial question: how do you find new suppliers? The results showed: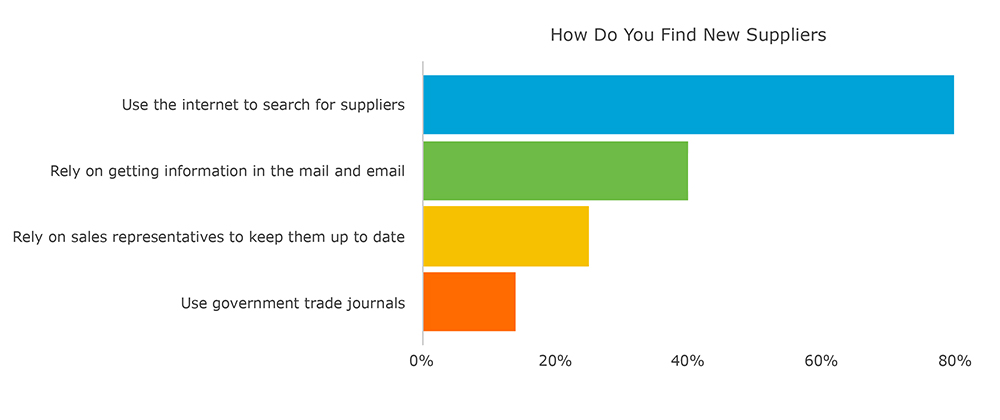 "A-ZGovBiz always delivers results. I have used the data in several roles and the diligence and research that goes into maintaining the data is second to none. Mike and his team always deliver great customer service as well. They focus on a niche and do it very well. I'd recommend them to anyone looking to market to Government."
John Wilson, Marketing Director
Hannover Fairs Australia
Government organisations are fluid, loosely defined entities with flexible borders. This incorporates frequently shared and interdependent corporate structures with huge cash flows and buying powers. With that in mind there are some essential tips on how to stage a successful marketing to government campaign:
Identify those departments and sections that will use your product or service and research their needs.
Find out their procurement policies, the processes and timetables they use when buying and how much they buy when they do.
Research the quantities involved and work out the value of pursuing any contracts to your business. Analyse whether such a course of action is monetarily feasible and proportionate to the effort required.
Contact people within the public agency and build a market presence for your business. Create relationships with staff via regular email marketing program or utilise the services of a mail house for regular direct mail programs so that your organisation will be better known and remembered when procurement situations arise. Ask A-ZGovBIZ about our direct marketing services.
Throughout the process of networking with government and tendering for contracts, remember to seek feedback and improve upon any issues that are raised. Also make use of the tender debriefing option if you are ever unsuccessful in bidding for a contract.
Only pursue tenders that have funding at least signed off or released.
Nurture relationships, but don't waste too much time helping civil servants trying to secure funds by writing funding documents or BIDS.
Target the decision maker and try to establish a relationship with them directly.
Do your research first. If you target agendas, then your product or service should help deliver on that agenda. Build a public sector profile to reflect that you understand the agendas you are targeting.
Use their language. If you've done your homework, you will have picked up the buzz words for your particular agenda. Use them in your marketing.
Keep in mind that government business units vary in size from massive Federal Government Departments such as the Department of Defence (Approx 5,000-50,000 employees) to small advisory bodies and local councils with 4 or 5 employees. However, very frequently smaller organisations can be considered to be constituents of a larger government body.
A-ZGovBIZ is a list supplier specialising in the Australian public sector. Our government marketing lists will ensure you get the highest quality customer data that will turn the simple purchase into an on-going value enhanced relationship. That's why they call us the public sector people.
Government Buying Cycles | Language of Government | Selling to Government?
Get in touch with us to talk about your public sector marketing needs: This email address is being protected from spambots. You need JavaScript enabled to view it. or call 02 9516 4703.