On the 6th October five-year negotiations of the Trans-Pacific Partnership (TPP) came to a close. Australia first agreed to participate in 2008 and negotiations began in 2010. The partnership will see 12 nations, including Australia, introducing new trade agreements that will cut 98 per cent of existing tariffs on Australian exports.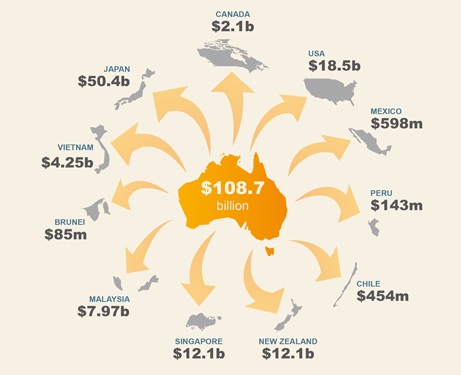 The countries involved in the partnership are: Australia, Brunei, Canada, Chile, Japan, Malaysia, Mexico, Peru, New Zealand, Singapore, the United States and Vietnam, which together represent 40 per cent of global GDP.
Upon the finalisation of the negotiations Minister for Trade and Investment, Andrew Robb said, "The TPP provides a particularly good outcome for a broad range of Australian services including education, professional services, transport, financial services, and access for Australian goods and services exporters to government procurement markets in the region."
As part of the TPP, government procurement markets will be opened up so suppliers will be able to bid for government tenders outside their country. Australian companies would be able to bid for tenders from Brunei, Canada, Malaysia, Mexico, Peru and Vietnam. This means that Australian suppliers now have the chance to tap into millions of dollars of foreign government tenders.
The education market will also open up more opportunities for Australia, especially in Vietnam. It will become easier for Australian Universities and TAFES to set up campuses in Brunei, Japan, Malaysia, Mexico, Peru and Vietnam as well as making it easier to send University staff to overseas campuses.
But, although the negotiations have come to a close, the TPP still has a long way to go before any changes take place.
Each of the countries still has to get the proposal passed through their parliaments. This may not be an easy task with opposition from the likes of Hillary Clinton who has expressed her disapproval,and with the change of leadership in Canada, new President Justin Trudeau has promised a "full and open public debate" regarding the TPP.
A major point of contention comes from the fact that the full text of the negotiations has yet to be released. While the government has assured that the full text will be made available before anything is officially signed, the public is yet to find out the intricate details of the deal.
The situation of Investor State Dispute Settlement (ISDS) is also yet to be revealed. While we must wait until the release of the full text to know exactly what it says about ISDS, many are concerned. If an ISDS clause is included in the agreement, it would mean that investors may be able to claim compensation from foreign governments if they introduce any policies or changes that negatively impact the investor.
While foreign government tenders is an exciting prospect, Australian government tenders will still remain an essential market for Australian suppliers. A-ZGovBiz Government mailing lists provide your business with the head start you need to secure government contracts.